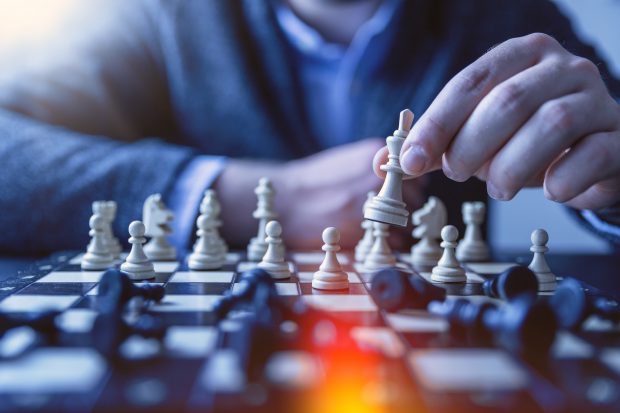 As more organisations decide to do more with their data, they frequently feel the need for creating a strategy to do so: a Data Strategy.
Questions that normally follow this realisation are what exactly is a Data Strategy, what does it need to include and who is going to write it. I'm not sure anybody would be surprised to hear that there is just no one answer to these questions, and that it really depends not only on the type of organisation, but its main goals and objectives.
In other words, the Data Strategy of an organisation should align with its wider Business Strategy. While such a statement seems obvious, it is often overlooked by those writing it. But how to create a data strategy that slots in with the business strategy, and are there common things that all data strategies should have?
What is a data strategy?
A data strategy should describe how an organisation wants to manage its data state in a way that supports is wider business strategy goals. Therefore, the first step towards understanding what a data strategy means for your organisation, is to understand what your business objectives are and how data is related to them.
In this great webinar from Suzanne Coumbaros, she identifies 4 main drivers for an organisation, and she then maps them to the DAMA wheel. Looking at generic organisational goals, Suzanne naturally refers to financial gains as one of the main drivers, be that by reducing risk, costs or increasing revenue.
While money might not be the primary goal for your organisation, particularly if you are in government, thinking about how to use your data to increase efficiency is always a great place to start.
What does a data strategy need to include?
In fact, efficiency has many aspects which might not be associated with costs directly, such as increasing the satisfaction of your customers when your customer base is fixed (for example, as a public-facing government agency). Other non-financial aspects that might drive your overall organisational goals are reputation (or avoiding reputational damage), compliance with laws or other frameworks imposed upon your organisation, or the quality of your products and outputs.
In most organisations, however, efficiency gains leading to cost reduction are normally either a target part of the corporate goals or implied in the operations of the organisation. Doing more with less, or just doing the same work with less resource, faster and better.
So, what can your data strategy include to help the organisation run more efficiently? Here are some of the key aspects to consider:
Data Management
Data are heterogeneous and might come from many different systems, but is all part of the landscape of an organisation. Only by managing data appropriately can organisations run effective operations. Consistency is key to achieve efficiency. Therefore the organisation needs to have a standard way to recording information so that when users and systems are presented with the data, they understand what it means and how to process it. Specific aspects of data management include data standardisation, data cataloguing, common vocabulary, metadata, modelling, master and reference data, etc
Data Analysis:
Data can be analysed as part of the day-to-day operations of an organisation (e.g. which customers to contact, financial situation, etc) or to extract insights from data. An organisation should use its data strategy to look at improving the accuracy and quality of the analysis, or at using new analysis technique to understand better the market, the users or itself. However the most important aspect is what question are we trying to answer and why are they important for our business strategy. Data Science and Artificial Intelligence are being touted as the key tools to bring data analytics into the future, but they need the foundations of data management to do this effectively.
Security and Compliance:
Users should only have access to the data they need, and the strategy should not only address access control but also the way data is kept secure and how it is embedded in day-to-day operations. Organisations need to demonstrate to their customers that they can be trusted with their data, and this goes beyond compliance with data protection regulations. Data breaches, as well as decisions regarding how the data is shared and with who, can have long lasting reputational implications, which could drive public perception and, in some cases, product uptake and revenue generation.
Technology:
Even if your data strategy achieves the right balance between data management, analysis and security, their implementation will likely need new systems and tools. For example, cataloguing tools with the right metadata to comply with GDPR, or a platform that allows users to analyse the data but with the right access controls. Almost as important as this, however, is to ensure that any new technology fits with the organisation processes. For instance, if we are asking data collection to record standard metadata, we should ensure that the tools to do that are in place and that they are connected to each step of the business process. What technology is used and how well is integrated with the business will dictate how well the data strategy works in practice. Let's not forget, however, that the data management, analysis and security part of the strategy should inform the technology, and not the other way around.
One aspect that is not explicitly mentioned above is that of Data Governance, or how to ensure that data is used properly in the organisation, and that its usage is aligned with the data strategy.
Data Governance should establish a framework for accountabilities and decision making for data use and is often complex because it needs to bring together existing organisational functions that have evolved throughout the years to govern specific aspects of data in the absence of a formal strategy.
In this article, Thor Olavsrud summarises well the importance of data governance and the risks of not formalising it as part of the organisation's drive to better manage its data. Therefore, data governance should sit at the top of your data strategy, as creating a set of goals and rules to make the organisation user data better, but not having the means to monitor it, is unlikely to work.
Who should write a data strategy?
Since a data strategy will touch several functions dealing with the day-to-day data operations of your organisation, it makes sense for the accountable person to have responsibility over those functions. This will probably be the Chief Information Officer (CIO) or the Chief Data Officer (CDO), or an equivalent role if you don't have one.
A CDO will typically have responsibility for data management, architecture and analysis, while a CIO will also have responsibility for technology and security. However, the CDO or CIO could play more of a sponsorship role rather than writing the strategy, which could be delegated to a person or team, that could for example run the writing as a project.
In the end, let's remember that creating a strategy will require analysis of the business goals and is likely to involve talking to a variety of stakeholders of different seniorities, as well as researching best practices and perhaps involving external experts that can provide advice and experience.
Where to start?
The first step towards creating a data strategy is to understand the business goals of the organisation and how data can play a role in meeting those goals. There needs to be a clear motive to invest in a data strategy, or not only the strategy won't be coherent with the direction of the business and therefore won't achieve buy in, but also the investment to implement the strategy will never materialise. The decision to create a data strategy should be agreed at board level, and it should be sponsored by a senior member of the organisation with a clear stake so that the obstacles that will invariable appear can be more easily overcome.
Finally, please remember that strategies set a vision and a direction of travel but are not static. Depending on the complexity of your organisation, the implementation of a data strategy can have deep implications on the daily operations, and as any transformation, is important to be realistic about what can be achieved and in what timeframe. In any case, whatever the pace of change, always invest in communicating what you are doing, or you will end up with more battles that you can win.