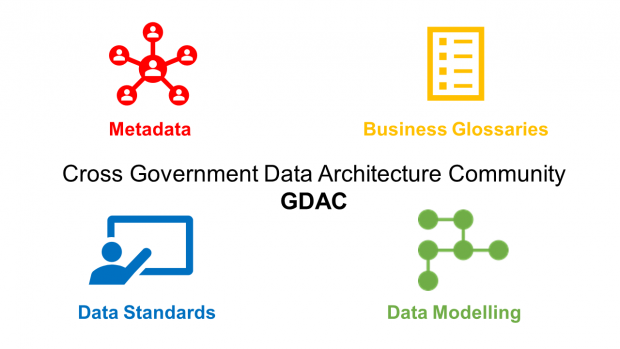 This page answers some common questions about the cross-Government Data Architecture Community (GDAC). To join, email our Community Manager at data.architecture@ons.gov.uk
What is it?
GDAC is a cross-government collaborative network and related sub-groups (smaller communities of practice) that brings together anyone who works in or around the field of data architecture in local, regional, devolved and central government. We discuss good practice, challenges that we currently face and work together as data architects towards better data-sharing and interoperability throughout government.
GDAC has a dedicated Community Manager who is hosted at the Office for National Statistics and at the Data Standards Authority, so it's a truly cross-government initiative. Our Community Manager also looks after the API and Data Exchange Community of Practice.
Network meetings take place every three months. Currently the meetings are virtual because of coronavirus, but we hope to run face to face meetings later in 2021. From 2021 there will also be weekly email updates and regular community of practice (sub-group) meetings that you can join.
Who can join?
If you are working on data architecture including data sharing, data standards or governance in local, regional, devolved or central government you are welcome to come along to our meeting.  If you're interested and want to find out more, just drop us a line and we'll have a chat!
What happens at the GDAC meetings?
The meetings provide an opportunity to:
meet other people working in the same area and share information
hear from other government departments who are tackling similar challenges
share your experience and do a show and tell if you've found a good solution
work together on specific topics of interest in smaller communities of practice.
GDAC Communities of Practice (sub-groups)
GDAC currently has four sub-groups which operate as smaller communities of practice collaborating around specific challenges to data-sharing and interoperability across government:
business glossaries
metadata
data standards
data modelling.
To find out more or join one of these communities of practice, contact our Community Manager.
How do I join GDAC?
Contact our Community Manager at data.architecture@ons.gov.uk.